This morning the Rev Dr Michael Paterson presided and preached on his first Sunday as our newly-licenced Priest-in-charge, and we celebrated the Feast of Christ the King with a special liturgy for the day.
The occasion was also our first service as an independent congregation. As you can read in this service sheet, we also gathered round the font and Paschal candle, both symbolically placed in the centre of the congregation, to rededicate ourselves, using the deeply-moving words of a covenant for Shared Ministry.
Before choir and congregation sang the Old Hundredth we also managed to mark the occasion in typical St Margaret's fashion, firstly by our sacristan, Pam Pryde, presenting an inscribed quaich to Michael, using some of the words lovingly written on the accompanying card by Lesley Yellowlees on behalf of the congregation.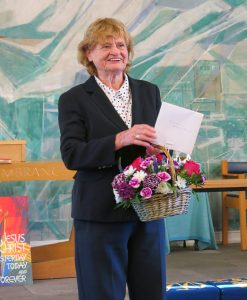 Then Lesley herself presented a basket of flowers to our Vestry Secretary, Sandra Young, in recognition of the enormous amount of extra work Sandra had carried out in recent months, dealing with the consequences of both pandemic and interregnum.