Noticeboard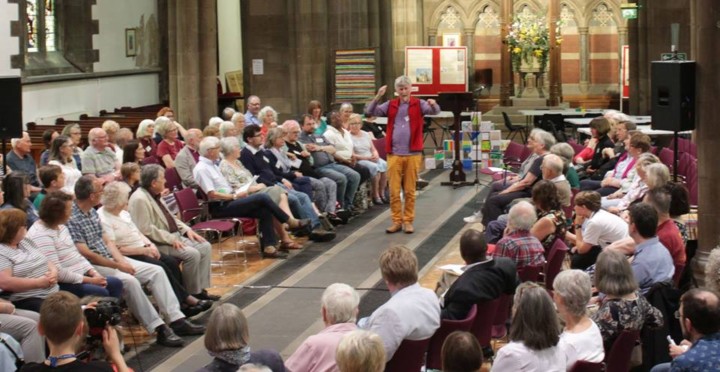 You may already have read our own delegates' reports on this year's Diocesan Gathering which appeared on p8 of the Summer edition of Contact. The official report, which includes pictures – "All present enjoyed an engaging celebration of diversity which was at the same time thought-provoking, hugely enjoyable and above all great fun!" – has now been issued, and can be downloaded by clicking the image.
A team of youngsters from around the diocese worked together to provide a 'Taste of the Gathering' on video and it is hoped that this presentation will be ready to share before the end of August.

Our Maundy Thursday service will be a Service of Light and Darkness including the celebration of Holy Communion, led by Rev Dr Helen Jenkins. We will gather around a table in the church for the service and to share bread and wine, and at the end we will hear the narrative of Jesus' passion, during which candles will gradually be extinguished, leaving us in darkness. We will then leave in silence as we contemplate what we have shared and heard. All are welcome to join us.
We're starting to get excited about the arrival in Fife of the Voskresenije Choir. This award-winning a cappella ensemble of former students of St Petersburg Music Conservatoire have just eight singers, but create an amazing sound!
The concerts are at 7.30pm on Thursday 17 November at St Serf's Church, Burntisland, and on Friday 18 November here, at Rosyth Methodist Church. The first half of each concert will feature music from the Orthodox Church tradition, with a set of Russian folk songs after the interval.
Tickets are £11 (concessions £10; U18s £5), including programme and interval refreshments. Tickets for the Rosyth concert are still available from Alan Taylor, or you can book online for both concerts at www.ticketsource.co.uk/russian-choir-fife. We recommend not turning up at Rosyth without a ticket, as the concert is already heavily booked. And please note that the seating is unreserved, and that the doors are open at 7:00pm.
More information at www.russianchoirfife.org.uk or email russianchoirfife@nullgmail.com.