Noticeboard
As described in Kenny's letter of 18 September, our worship together in these COVID-19 days has had to be adapted to comply with the required guidelines. The main things you need to know are:
In advance: There is a strict limit to the numbers that can be accommodated safely in our building, and it would be helpful to know that you intend to come, so that we are able to accommodate as many as possible – email Sandra at sandrayoung39@

null

btinternet.com.
When you arrive: The only entrance to the building is by the door in the car park, and you should follow the one-way system as directed.
Face coverings must be worn when in the building, and should only be removed when receiving communion.
Physical distancing must be maintained when in the building and throughout the service. To make this easier, a sidesperson will guide you as to where you should sit.
Guidance as to the use of hand sanitisers must be observed.
At the end of the service you will be guided when to leave in order that physical distancing can be maintained.
To comply with 'Track and Trace' requirements, personal details will be requested at all services.
We will be meeting in unusual circumstances – while music will be played there can be no congregational singing; the Peace cannot be shared; you will receive Communion in one kind only (the bread) – but every effort will be made to make it as prayerful and enjoyable an experience as we can.
Realising that all this is difficult to visualise, you might find it helpful to watch this video produced by the Province, which gives a flavour of what to expect when you next come to St Margaret's.
Churches can now open for public worship subject to additional rules laid down by the Scottish Government, and revisions have been made to the guidance issued by the Advisory Group of the Scottish Episcopal Church, and the pastoral guidance issued by the College of Bishops. Should you wish to read them you will find the latest version of the guidelines on the SEC website.
Updates with slight modification on previous guidance include a strict limit on numbers permitted to worship, with physical distancing remaining in place at 2 metres; a recommendation on collecting details of those attending to facilitate contact tracing; and limited singing by just a single voice.
The rules are challenging to say the least! All must abide by the Government guidelines and cannot take shortcuts. And, of course, as we worship in Methodist premises, we are also bound by their implementation of the rules, which at present means that we will not be worshipping at Rosyth until at least 1 September.
[Updated 17 Aug] The SEC website used to link to a short video 'walk through' of the preparations and practices needed for public worship, which demonstrated in an easy-to-assimilate form what may well become the new normal. Unfortunately, this useful video had to be withdrawn as it didn't show worshippers wearing face masks as required by a latest guidance. In consequence, expect it to feel even less like things were when we last met on 15 March!
Fife Cluster Youth Fellowship has been continuing despite the pandemic situation, and have planned a Sunday evening programme for July and August which you can access at this link. Young adults (P7 and upwards) are invited to enjoy fun and fellowship despite the circumstances!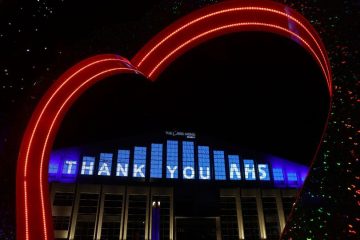 As it recommends on the /Together campaign website, "On Sunday 5 July mark the birthday of the NHS by joining together to say a big "thank you" to everyone who is helping us through these difficult times, from carers and helpers, to friends and family. And make a promise to each other to get through the months and years ahead, together!"
In the run-up to 5 July, the 72nd anniversary of the NHS, you can say a personal thank you to someone who matters to you by downloading one of our artists/together templates on the /Together website and displaying it in your window.
On the evening of 4 July, we are asked to put a light in our windows in remembrance of all those lost to the coronavirus pandemic. National landmarks will also be lit up in blue as part of our collective memorial.
At 5.00pm on 5 July, we are encouraged to take part in one last country-wide clap of thanks, and then stay out to raise a glass or have a cup of tea with our neighbours.
The Most Reverend Justin Welby, Chair of the Together steering group, is one of many public figures who voiced their support in an open letter which read: "We all owe a debt of gratitude to the nurses, doctors, physios, porters, cleaners, and countless others who have delivered for patients and their families along with all those in the care sector. But we are also hugely grateful to the shop workers, transport staff, delivery drivers, teachers, refuse collectors, farmers, armed service personnel and other key workers who have kept the country going."
Our church meets in Methodist premises, so any recommencement of worship or other activities at St Margaret's as we gradually move out of lockdown will be governed by the response of the Methodist leadership in Scotland to new Government guidance as it appears.
The decision announced last week is that no Methodist church buildings will be opened before 1 September 2020. The leadership will be looking at how the buildings can be made ready to receive people in a safe and healthy environment – cleaning, provision of sanitisers, sorting out of hygiene protocols, etc – and you will be kept informed as we progress through July and August.