Noticeboard
We are pleased to announce that at a meeting on 19 June, chaired by our interim bishop, the Right Rev Kevin Pearson, Bishop of Argyll and the Isles, members of both vestries interviewed and appointed the Very Rev Kenny Rathband as the new rector of Holy Trinity, Dunfermline and St Margaret's, Rosyth.
Kenny is Dean of our diocese and rector of St Catharine's, Blairgowrie, St Anne's, Coupar Angus and St Ninian's, Alyth. He also has pastoral care of St Michael's, Ballintuim.
We look forward to welcoming Kenny to serve St Margaret's, probably later in the autumn after the consecration of our Bishop-elect Ian on 20 October. Further details will be posted here later. In the meantime, we hold Kenny and his wife, Ruth, in our prayers.
Sorry everyone, but there will be NO Triangle Café this Friday (8 June) – the water is being turned off all day by the water board, presumably for repairs to take place. With no toilets and no water for washing-up the café cannot function.
😪
Normal service will be resumed next week!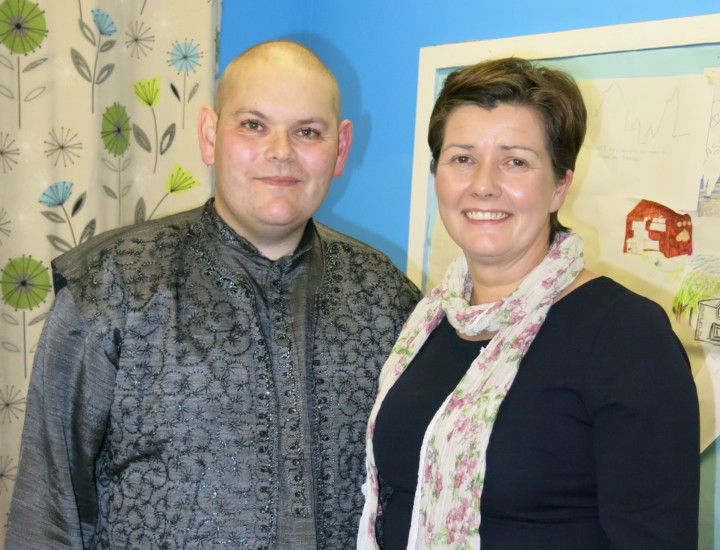 At our Harvest Supper on 23 September we welcomed Ross Stirling from St Finnian's and Fiona McLeod, his colleague from Fife College, who spoke about the work of the Arunima Hospice in Kolkata (Calcutta). The hospice helps children who are either HIV positive or have AIDS, or whose parents have died of AIDS. Ross and Fiona had already raised funds to support Arunima, and visited Kolkata in April. Their aims were to build new relationships between the hospice and Fife College, and to continue established links with our Diocese.
In a joint presentation they shared their experiences and told how the money raised so far has been helping Arunima. The talk was full of interest and humour, but it was also heart-breaking at times – the needs of these disadvantaged children are very great.
Val Leslie introduced the speakers, and also presented the handmade prayer blankets for the children that had been blessed at our service the previous Sunday.
The audience of over 50, which included a heartening number of young people from across the West Fife area, enjoyed both the talk and the home cooking that had preceded it. They were generous in their response, and the amount collected on the night was £423 – over £500 with reclaimable Gift Aid.