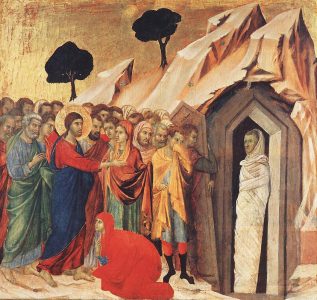 This is an extract from Rev Sheila Cameron's sermon on 26 March, the Fifth Sunday of Lent, when she was expounding on two resurrection passages in Ezekiel 37:1–14 and John 11:1–45:
… what does Jesus's promise of resurrection mean for us here and now? Whatever our circumstances: whether someone is a young person and still a bit uncertain of their identity, or a so-called 'mature' person advanced in years, whether they're struggling in mid-life with money, career or family issues, or battling with ill health or the loss of physical strength in old age, these words of Jesus, "I am the resurrection and the life," carried in the heart and recited in faith will bring comfort and restoration and enable each one of us to face the future with confidence.
These are words that have inspired whole nations to seek freedom and human dignity, as well as being most potent in the lives of individual Christians. The idea that we can overcome the flesh, that is, our limited physical existence in a body subject to sin and decay, and live anew, here and now, inspired the movement to liberate the poor from political and economic oppression in South America in the 1970s and 80s. One of the fathers of that movement in the Catholic Church wrote that Paul's teaching in Romans 8, that setting the mind on the flesh brings "death" while setting the mind on the Spirit brings "life and peace", combined with Paul's idea of the church as the body of Christ – makes the Church a very powerful agent of transformation in the lives of poor people and enables them to take charge of their own destinies.
---
Do read the whole of Sheila's sermon at this link.
The Raising of Lazarus, painted in Siena by Duccio di Buoninsegna and in the collection of the Kimbell Art Museum in Forth Worth, Texas, is made available by the Web Gallery of Art at this link.