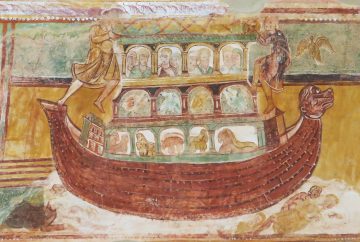 This is an extract from Rev Sheila Cameron's sermon on 30 April, The Fourth Sunday of Easter, when she was reflecting on the story of Noah told in Genesis:
… Such Old Testament stories are the foundation of our Christian narrative and our New Testament or covenant with God through Jesus Christ. In the first covenant that God made with humans, he reassured Noah, who was a good and godly man, that he would never again destroy the earth; and, as we read in Genesis 9, the rainbow was given as a sign of that promise. The earth had become an evil and violent place but the Flood brought a fresh, new world living in a new relationship with its Creator. Our Christian baptism is a sign of our covenant with God through Christ: a covenant of grace offered unconditionally. All we have to do is accept in faith the offer of salvation through Christ, for we have inherited eternal life by being baptised into his death and resurrection.
The early Christians saw Noah as a character who called people to repentance; according to Clement of Rome, for example, writing around the year 96, "all who listened to Noah were saved." The Ark soon came to be seen as prefiguring the Church, which came to be called the "ship of salvation." …
---
Sheila went on to talk more about the ship image and the church, the way that the "community of salvation" operated and grew in the early church, and about Christ as our only means of access to salvation. Do read the whole of her sermon at this link.
Our photograph is of a section of the 11th-century murals illustrating the books of Genesis and Exodus on the ceiling of the barrel-vaulted nave of the Abbey Church of Saint-Savin-sur-Gartempe, in Poitou, France. If you don't have time to visit, as your webmaster did, more delightful images can be found at https://tinyurl.com/mtnwjrud.