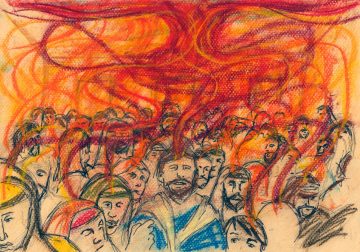 Long before the disciples started speaking in tongues, Pentecost was a Jewish feast, celebrating the wheat harvest and the offering to God of the fruits of that harvest. At the feast of Pentecost we read about in Acts 2 people would have come from far and wide, and there would have been an festive atmosphere with plenty of new wine. Which explains why the crowd were speaking so many different languages and why others might think the disciples were drunk.
It's into this excited and joyful gathering that the Holy Spirit descends with vivid tongues of flame and roaring wind. The Holy Spirit has the power to change once-timid disciples, enabling them to speak in languages not their own, and filling them with joy and excitement, so that people from all over the world hear the Good News spoken in their own languages.
It might be hard for us to identify with the experience of those early disciples, and hard to imagine the crowds, the celebrations, the fire and wind, the preaching in many languages and lives changed so dramatically. It might be easier for us to identify with the disciples sitting with Jesus in a quiet room somewhere while he talks to them, a small group, about the Spirit that he promised would be sent by his Father after he had gone to be with him in heaven.
About that Spirit being an advocate – the "Spirit of truth" who will teach the disciples about the ways of God and remind them of the words Jesus spoke while he was with them. About that Spirit being the "helper", who supports us, helps us and gives us the energy and strength we need to live in accordance with God's will for us. About that Spirit being a "Comforter", bringing God's comfort and support within our very selves, so that somehow we are held through dark times.
What Jesus is saying about the Holy Spirit is that this is how he himself will remain with his present and future disciples always. This is how God will always stand alongside and within us, teaching us how to stand alongside God, living as he wants us to live. And the Pentecost story is an encouraging reminder of the promises of Jesus to those disciples, and to us, that we will not be left alone, God will not abandon us but will come to us in a new way and make his home within us for ever.
Much condensed from a post by Katharine Smith at this link.