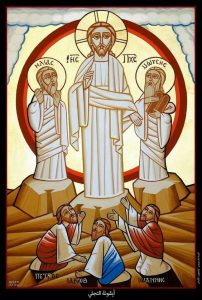 On 7 August, Rev Sheila Cameron preached on Luke 9.28–36, about the Transfiguration of Christ, and her sermon ended:
"Our work and our worship are to go hand in hand. We're called not to be blinded by the light of Christ, but to let it gently illuminate and enable our everyday existence.
"The disciples were permitted to see the glory of God in the face of Jesus in preparation for a life of service and self-giving. As Christians, we're instructed not to hide our light but to let it shine in the world so that people might, through us, come to know the light of Christ …
"In the story of the Transfiguration, God's glory breaks into the ordinary and the mundane, sometimes dazzling us with its radiance as sunlight can dazzle us when we emerge from a shady place, more generally transforming our reality with new brightness and promise. But there is more to it than that; this morning's collect reminds us that being transformed "from glory into glory" is necessarily a journey we make by the grace of God. We pray for that grace to perceive Christ's glory in places of suffering, so that we might be strengthened to suffer with him: and we should not be in any doubt that our lives will contain suffering; but we believe that in Christ our suffering will lead us to a place of resurrection where we too will reflect his divine glory.
"The Transfiguration is about an encounter with a God who insists that we recognise the divine, the sacred, the heavenly, everywhere in the world around us. We need to hold on to our graced moments of vision to carry us through the difficult times, as Peter, James and John never lost sight of that vision of Christ in glory that was given to them on the mountain. Thanks be to God."
You can read the whole of Sheila's sermon at this link.