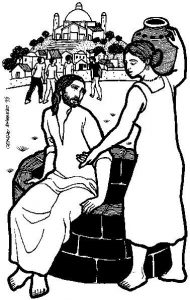 This is how Rev Sheila Cameron finished her sermon on 12 March, the Third Sunday of Lent:
The surprising turn of events began for the woman when she was invited to minister to Jesus, because she had a bucket to draw water from the well and he hadn't. She could have ignored him but she didn't, and we assume she gave him water, although the text doesn't actually say so. She was a person of some compassion and Jesus responded by offering her the gift of life. She was also a woman of faith, who believed that the Messiah was coming – and not only for the Jews but also for the Samaritans – and here is a real moment of consolation, a promise trusted. The woman's faith was rewarded when Jesus said to her, "I am he, the one who is speaking to you" – the first time Jesus uses those words so characteristic of John, "I am", the words that identify Jesus with the God of Moses, the one whose Hebrew name, Yahweh, meant simply "I am, the one who is."
And so it's here, in this alien place and to a woman who has been let down by life time and time again, that Jesus first reveals the presence of God.The disciples came back and were shocked because Jesus wasn't behaving with the dignity they expected of a good Jew.The woman goes away joyfully to tell her friends the good news, her life changed forever because the glory of God has been revealed to her – as much as the man blind from birth was changed by the miracle of Jesus' healing.
When we most need encouragement, when our spirits are at their lowest ebb, when life seems to have let us down, our faith will be rewarded with a sign of God's presence, the gift of the Holy Spirit, the living water, to refresh and renew us. As Jesus has promised, we will drink from our well of faith in abundance, for the well is a symbol of the inexhaustible grace and providence of God. And that amazing and life-changing generosity will always astonish us. Amen.
---
Do read the whole of Sheila's sermon at this link.
Maximino Cerezo Barredo is a Latin-American artist who has been called a "painter of liberation". Our picture is one of a series of black and white drawings which follow the three-year cycle of the Lectionary, and feature a consistent Liberation Theology theme, that are available through Servicios Koinonia.