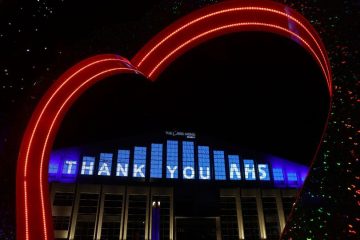 As it recommends on the /Together campaign website, "On Sunday 5 July mark the birthday of the NHS by joining together to say a big "thank you" to everyone who is helping us through these difficult times, from carers and helpers, to friends and family. And make a promise to each other to get through the months and years ahead, together!"
In the run-up to 5 July, the 72nd anniversary of the NHS, you can say a personal thank you to someone who matters to you by downloading one of our artists/together templates on the /Together website and displaying it in your window.
On the evening of 4 July, we are asked to put a light in our windows in remembrance of all those lost to the coronavirus pandemic. National landmarks will also be lit up in blue as part of our collective memorial.
At 5.00pm on 5 July, we are encouraged to take part in one last country-wide clap of thanks, and then stay out to raise a glass or have a cup of tea with our neighbours.
The Most Reverend Justin Welby, Chair of the Together steering group, is one of many public figures who voiced their support in an open letter which read: "We all owe a debt of gratitude to the nurses, doctors, physios, porters, cleaners, and countless others who have delivered for patients and their families along with all those in the care sector. But we are also hugely grateful to the shop workers, transport staff, delivery drivers, teachers, refuse collectors, farmers, armed service personnel and other key workers who have kept the country going."