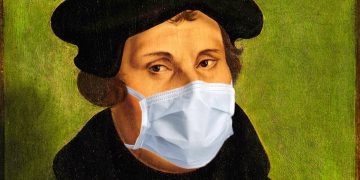 A theologian friend passed on this example of responsible Christian behaviour in a time of pandemic.
The Reformer Martin Luther (1483–1546) wrote to a friend on how he will behave as a pastor during a time of plague:
I shall ask God mercifully to protect us. Then I shall fumigate, help purify the air, administer medicine and take it. I shall avoid places and persons where my presence is not needed in order not to become contaminated and thus perchance inflict and pollute others and so cause their death as a result of my negligence. If God should wish to take me, he will surely find me, and I have done what he has expected of me, and so I am not responsible for either my own death or the death of others. If my neighbour needs me, however, I shall not avoid place or person but will go freely as stated above. See this is such a God-fearing faith because it is neither brash nor foolhardy and does not tempt God.
My friend added this footnote:
Luther himself was not the only Lutheran who knew how to behave during plague. Philip Nicolai (1556–1608) was a pastor in Germany, and a poet and composer. He wrote (both words and music) two of the most beautiful chorales we associate with Advent and Christmas: Wachet auf! ("Sleepers wake") and Wie schoen leuchtet der Morgenstern ("How brightly beams the morning star"). He wrote them for his congregation during a terrible outbreak of plague, when he was conducting as many as 30 funerals a day.