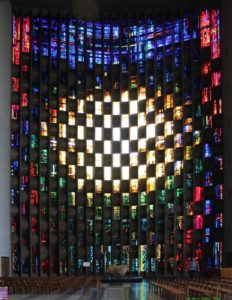 2 February is Candlemas, when we remember Jesus being presented in the Temple as a little child, and read the words of Simeon from the Gospel of Luke, so familiar to us from Evensong, that describe Christ as "a light to lighten the Gentiles and the glory of His people Israel".
In his sermon during last Sunday's BBC Radio 4 "Sunday Worship", the Archbishop of Wales, the Most Revd Dr Barry Morgan asked:
"If that is really the case, why does Simeon go on to say that Jesus will cause some to fall and others to rise? But is not that what happens when people and objects are exposed to light? Light shows things as they really are – the dirt and the dust are made visible. So too the light and goodness of Jesus showed up and shows up the darkness of those who did not and do not want to live in His light.
"The artist John Piper captures it all in one of the windows at Coventry Cathedral, where he portrays Jesus as light breaking into the world. Whilst the periphery of the stained glass window is dark, the central figure, Jesus, is portrayed in beautifully clear and dazzling stained glass but the darkness around the edges remains."
Read or listen to the sermon in context at this link, or read the sermon here.