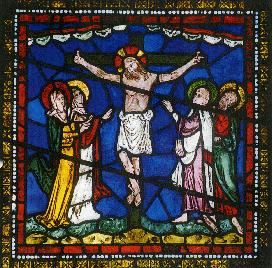 It's the preparation of Holy Week that speaks more to me and evokes more memories than Easter Day itself. Vivid memories of my home Church, where our choir would sing a sacred cantata every Palm Sunday evening. Then on Good Friday afternoon we would head off in a coach to a country church to repeat the piece we'd rehearsed for the previous Sunday.
Our choice of setting for the Passion narrative alternated: one year Maunder's Olivet to Calvary; the next Stainer's Crucifixion. Both of them late Victorian attempts to rethink the great Bach Passions so that congregations could relate to them and they weren't too difficult for ordinary choirs to perform. Each had choruses, chorales, recitatives and arias – and hymns for everyone to take part in.
It's the Stainer that's stayed with me. That's not just because I still have the copy I sang from in the 60s, but I've sung it three times during 30 years in Dunfermline and, as many of you know, until coronavirus intervened we had plans to sing it here again last April with an augmented choir. It's because it still speaks to me, all the way from The Agony in the Garden when Jesus asks three times "Could ye not watch with me one brief hour", through that well-known setting of "God so loved the world" to The Appeal of the Crucified which starts "Is it nothing to you, all ye that pass by?"
I'm sad I won't get to sing Crucifixion this year, but its words and music will be with me as I re-read the story of Christ's Passion and death. I won't hear a pin drop in the stillness that follows "It is finished" and I'll think back to the congregation rising to sing the final hymn "All for Jesus".
Martin Tarr
[If you want to find out more about Crucifixion and hear the music, go to our archive page]