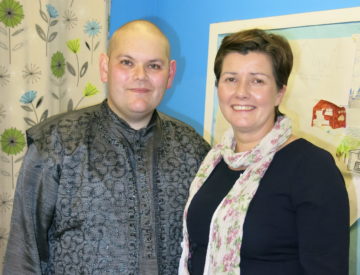 At our Harvest Supper on 23 September we welcomed Ross Stirling from St Finnian's and Fiona McLeod, his colleague from Fife College, who spoke about the work of the Arunima Hospice in Kolkata (Calcutta). The hospice helps children who are either HIV positive or have AIDS, or whose parents have died of AIDS. Ross and Fiona had already raised funds to support Arunima, and visited Kolkata in April. Their aims were to build new relationships between the hospice and Fife College, and to continue established links with our Diocese.
In a joint presentation they shared their experiences and told how the money raised so far has been helping Arunima. The talk was full of interest and humour, but it was also heart-breaking at times – the needs of these disadvantaged children are very great.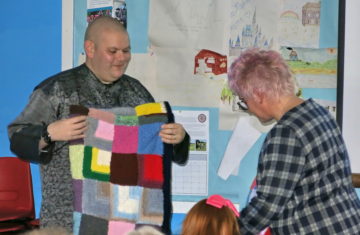 Val Leslie introduced the speakers, and also presented the handmade prayer blankets for the children that had been blessed at our service the previous Sunday.
The audience of over 50, which included a heartening number of young people from across the West Fife area, enjoyed both the talk and the home cooking that had preceded it. They were generous in their response, and the amount collected on the night was £423 – over £500 with reclaimable Gift Aid.