Thought for the month
"He is not here; he has risen!" (Luke 24:6) were the words spoken to the followers of Jesus on that first Easter morning. They had come to the tomb to finish the task of burying their friend. They had come to mourn. They thought that they would have to go to where his lifeless body lay if they wanted to see their Lord again. And yet their mourning turned to joy. They went looking for him in a cemetery, but they heard good news about expanding their search!
So, where do we look for Jesus? Because of the empty tomb, we Christians aren't afraid of cemeteries, and we often find comfort in repeating the words of Jesus at the graveside. Jesus is the Lord of our lives, and of all parts of our lives, but we don't have to limit our search to a cemetery to encounter him.
We can find Jesus as we share the joy in a celebration of life; a wedding, a baptism, a birthday, a graduation. Jesus loved the joyful times of life.
We can find Jesus in the times of quiet solitude. As we are still and know that God is God in the mountains, by the sea-side, or in the garden at sunrise or sunset, we can remember that Jesus often craved the lonely place for prayer and reflection.
We can find Jesus wherever life leads us. That's what it means to serve a living Lord. "He is not here (at the tomb where his enemies tried to send him). He is risen." And our lives are to be lived with Him.
"Thank you God for showing us that in the risen Christ, life is full of promise. Help us to live each day hoping to encounter Jesus, our living Lord. Amen."
Adapted from an Easter reflection by Steve Negley.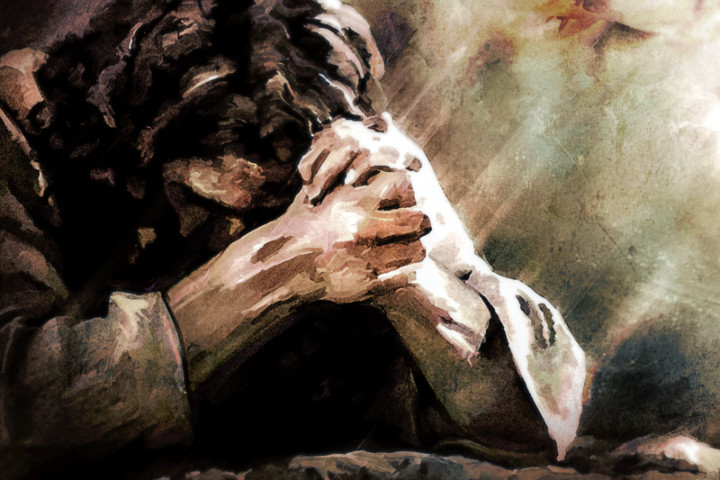 This is based on one of Rev Dr Helen Jenkin's reflections at our joint communion service on Palm Sunday, just after we had read Mark 14:32–42:
When I was in Livingston I spent many hours in the Garden of Gethsemane! We ran a workshop each year for the P7s in many of the schools across the town, as they 'cracked the Easter code'. It's a brilliant opportunity to tell the story and enable the children to explore their reactions to it. The section I ended up facilitating was the Garden of Gethsemane, where they explored Jesus' struggle with what is ahead of him.
In those moments we see a very human Jesus. He may be divine, but he is also a man, and the struggle he faces is real. He knows what is coming, and he would do anything to avoid it. The struggle is agony – "I am deeply grieved, even to death" – and the choice is clear – go God's way, or turn aside.
We see too the humanity of Jesus' disciples, who faced with the opportunity to stand alongside him in his pain, to support him in prayer, can only manage to fall asleep.
Where do you find yourself in this scene? In pain; struggling with the challenge to do what is right; wanting to support someone you love but failing; feeling let down by your friends.
This week the whole range of human emotions are experienced by Jesus and his friends, so whatever you're dealing with at the moment, there will probably be something you can relate to, a place where you can draw close to Jesus knowing that he has some understanding of what it is to be where you are. For some of you that may be crying out in worship and praise, but for others the cries may be of pain or frustration. Whatever you bring today, you can bring it to Jesus.
Rev Dr Michael Paterson's homily at our joint service on 25 February ended with an illustration that we want to share:
"I want to give you a visual reminder of how disciples may heal and repair the great disparity between churchiness and discipleship.
"And it's this JCB truck from Argos. You will be pleased to know that it comes with stabilisers to help you find our feet in all the transitions that both congregations will have to make this year. It also comes with hazard signals to warn the people of Rosyth that men and women are hard at work here.
"It comes with a digger to enable us to dig deeper than the top soil of religion to unearth the rich wells of spirituality; and to chip away at the small-mindedness that divides God's people into us and them.
"And it comes with a massive front scoop to collect up all the rubble and debris of old rivalries and petty squabblings within and between our congregations and to bury them once and for all.
"It's a fun thing, but I hope you will give it a prominent visible home within this church so that Sunday by Sunday as we leave from worship it will remind us of the choice before us: to hand back our hymn books and, like Peter, put God back on the shelf where he belongs,well out of harm's way until next Sunday, or to leave here having signed up as God's apprentices, God's pupils, learners in God's Kingdom."
For the rest of Michael's sermon, you'll have to wait for the next issue of Contact!