Thought for the month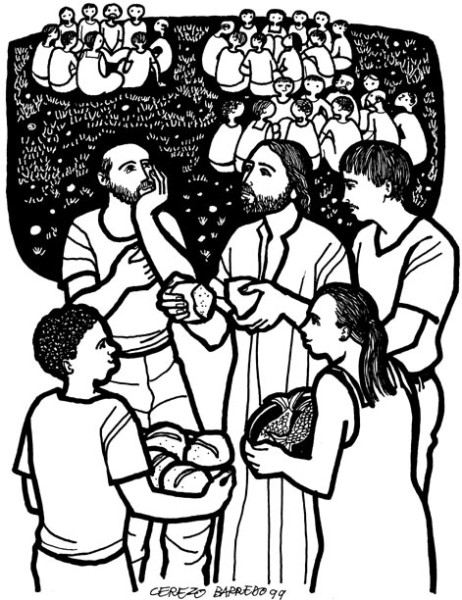 Every time we gather around the Lord's table we hear the same four verbs over and over again: take, bless, break, share:
Jesus took bread / blessed it / broke it / and shared it
Jesus took wine / blessed it / poured it / and shared it
That's the shape of the eucharist, and that's the shape of the Christian life:
to take our very lives and offer them to those around us
to turn our lives into a blessing for others rather than an ego trip for ourselves
to say Amen to being broken and used, to consent to our energies being uncorked and poured out to quench the thirst of others
and to see every good thing we have ever received in life as a gift to be given away rather than stored up for ourselves.
Taken, blessed, broken, poured out and shared. It sounds like a lifetime's work, and how much headway have you or I made?
Saying 'Amen' at the altar rail is easy. Saying 'Amen' to becoming communion for the world – to be taken, blessed, broken, poured out and shared is a much harder matter.
But glory be to him who at this table gives us a new start! Glory be to him who goes on offering himself to us even when we don't return the favour! Glory be to him who always feeds us, despite the crumbs we offer in return! Glory be to him, who today at this table can turn you and me into people who, day by day, communion by communion, can bridge the gap between what we receive and who we are. Glory be to him, whose power working in us can do infinitely more than we could ever think, hope, dream or imagine. Glory be to him in the Church and in Christ Jesus. Amen.
Extracted from a sermon preached by Michael Paterson at St Margaret's on 29 July 2018
Our readings were 2 Kings 4.42–44, Ephesians 3.14–21 and John 6.1–21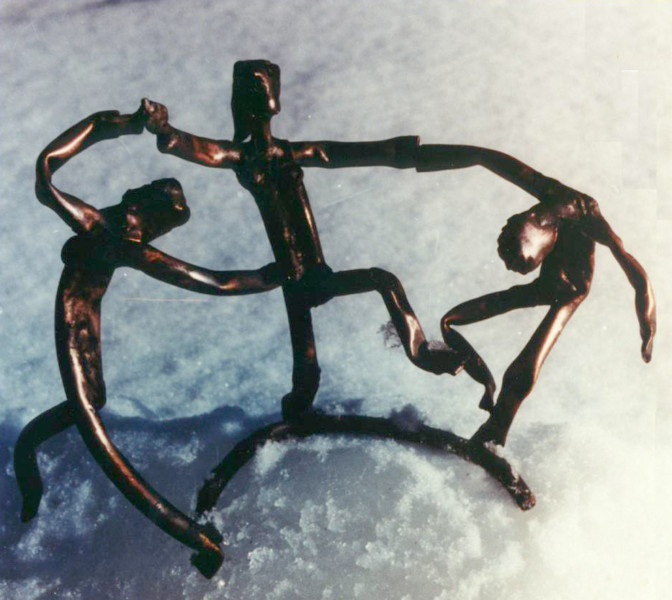 In her sermon on Trinity Sunday, in order to describe the relationship at the heart of the Trinity – the three persons of the Godhead relating with one another – Helen Jenkins used the illustration of the distinctive Greek way of dancing called perichoresis, where there are not two dancers, but at least three, weaving in and out, and going faster and faster until their individual identities become part of a larger dance.
"The early church fathers and mothers looked at that dance (perichoresis) and said, 'That's what the Trinity is like.' It's a harmonious set of relationship in which there is mutual giving and receiving. This relationship is called love, and it's what the Trinity is all about. The perichoresis is the dance of love.'
"Any image like this for the Trinity will only ever be a metaphor, but the beauty of this metaphor of dance is that it is one that can draw others in. The dance isn't one that is exclusive to the Godhead, but instead they reach out to draw us into it. We too can be part of that beautiful pattern of interweaving dance partners; we too can get caught up in the energy, the rhythm, the passion. We can find in it a place of transformation.
"And the dance isn't just for us here in the church, it's for the whole world. For God so loved not 'the people in church on a Sunday' or 'the people who live blameless lives' but God so loved the world, kosmos in the Greek, everything and everyone. This is a party that everyone's invited to. …
"But for others to join in, they need an invitation, and they may need to hear that invitation over and again before they find the courage to put a foot in the dance and risk being swept up. "Whom shall I send, and who will go for us?" God asks Isaiah. Do we have the courage to join Isaiah in responding "Here I am, send me!" Will we allow our lives and words to be an invitation to others to join the dance. …
"Today, whether you have been immersed in the dance for many years or whether you feel like you're only dipping your toes in the edges, whether you hear the rhythm and know all the steps or are worried about tripping over your own feet and getting it wrong, whether your pace is fast or slow, will you come and join the dance of the Trinity, and as you join it will you hold out your hands to others and invite them in too to a place where everything can be turned around as we live and learn in community with each other and with God."
You can read the whole of Helen's sermon, and see its context, at this link.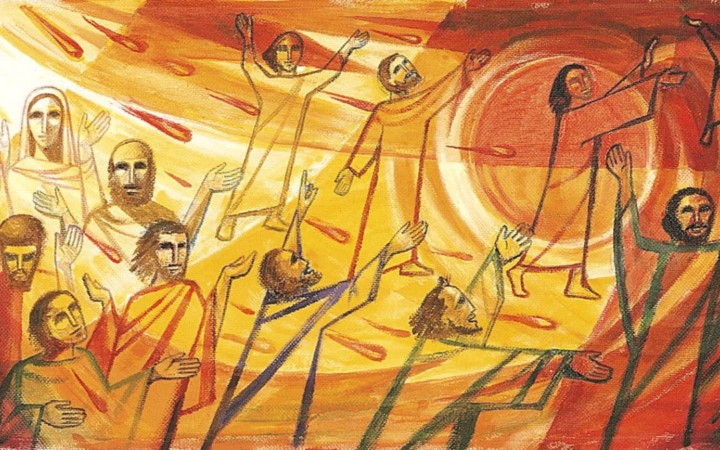 What exactly happened at the first Christian Pentecost? The honest answer is that we don't know. The wind, the fire, and the tongues defy scientific explanation. We are dealing here with extraordinary phenomena which defy description. But ultimately these supernatural phenomena are not important. For the key question we need to ask is not so much 'What happened?' as 'What does it mean?' This was the question asked by the crowd: "Amazed and confused, they kept asking each other, 'What does this mean?'" (Acts 2.12). As Peter went on to explain, this was the day when God poured out his Spirit on young and old, men and women, people from every race and nation. There was nothing monochrome about the new community which the Spirit created – instead there was rich diversity within the new fellowship of the Spirit.
The final paragraph of Paul Beasley-Murray's blog.