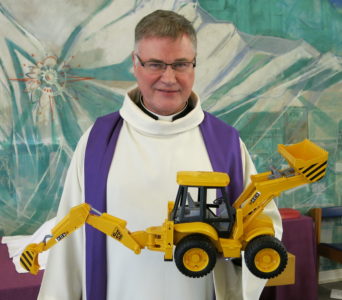 Rev Dr Michael Paterson's homily at our joint service on 25 February ended with an illustration that we want to share:
"I want to give you a visual reminder of how disciples may heal and repair the great disparity between churchiness and discipleship.
"And it's this JCB truck from Argos. You will be pleased to know that it comes with stabilisers to help you find our feet in all the transitions that both congregations will have to make this year. It also comes with hazard signals to warn the people of Rosyth that men and women are hard at work here.
"It comes with a digger to enable us to dig deeper than the top soil of religion to unearth the rich wells of spirituality; and to chip away at the small-mindedness that divides God's people into us and them.
"And it comes with a massive front scoop to collect up all the rubble and debris of old rivalries and petty squabblings within and between our congregations and to bury them once and for all.
"It's a fun thing, but I hope you will give it a prominent visible home within this church so that Sunday by Sunday as we leave from worship it will remind us of the choice before us: to hand back our hymn books and, like Peter, put God back on the shelf where he belongs,well out of harm's way until next Sunday, or to leave here having signed up as God's apprentices, God's pupils, learners in God's Kingdom."
For the rest of Michael's sermon, you'll have to wait for the next issue of Contact!