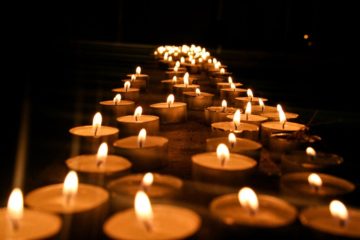 One of the most extraordinary passages in the Bible tells the story of Christ's goodbye, which we call the Ascension:
"While He was blessing them, He parted from them and was carried up into heaven. And they, after worshipping Him, returned to Jerusalem with great joy, and were continually in the temple praising God."
It was the last time the apostles would see Jesus. They had experienced the utter catastrophe of His death, followed within days by the triumph of His resurrection. Later, He left them. Instead of the sadness we might expect after His final farewell, they were exuberant and went back to Jerusalem. What an extraordinary reaction. Jesus had gone, Jerusalem was fraught with danger, yet they seemed brimful with confidence.
Ringing in their ears was His repeated teaching about the Kingdom of God and the commission to preach forgiveness of sins throughout the world, beginning at Jerusalem. They were to wait there until they were "clothed with power from on high." Far from feeling abandoned, they were full of hope and eager to be equipped for their vocation. They and the Christian community would represent Christ on earth, as He represented them in heaven, "seated at the right hand of the Father", in the words of the Creed.
All this is temporary. God has not planned the world to remain in its present state in perpetuity. Our particular era may seem to be particularly grim, but it is but one strand in human history and we are no more distinctive than any other generation. Although the world as it is seems to be lasting a long time, we are living in what the writer of the Letter to the Hebrews calls 'the final age'. We are to anticipate a finale, when Christ's rule will be apparent to all. There's an Old Testament proverb which is particularly apt: "Many are the plans in a person's heart, but it is the Lord's purpose that prevails." Isn't that exactly what we hope for every time we pray for God's will to be done on earth, as in heaven?
The Archbishop of Canterbury and others are prompting us to join in a global 'wave of prayer' between Ascension and Pentecost (25 May to 4 June), concentrating on "Your Kingdom Come". That will make us usurpers, praying for God's Kingdom to displace all others! It will also make us one with Christ.
Editorial from the magazine of Upper Holloway Baptist Church
More about the prayer initiative at this link.