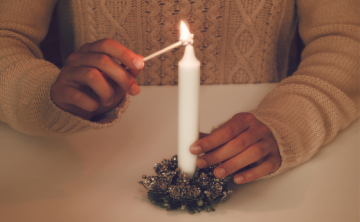 This Sunday (29 November), as the season of Advent begins, Christians across the country – and further afield – will once more join together in prayer at 7.00pm in response to the COVID-19 pandemic. As with previous weeks during lockdown, 14 Christian churches and organisations across the country, including the Methodist Church, have co-signed the letter calling for prayer.
"We come now to a significant place in the long journey that we have made over these past months and the place we have come to is where the season of Advent begins.
"The season speaks of Hope and, though it begins with a recognition that we still face the darkness, brings with it the promise of light. The first Sunday in Advent will, in years past, have echoed to the singing of ancient and inspiring words:
O come, O come, Immanuel/and ransom captive Israel
that mourns in lonely exile here/until the Son of God appear.
"The words express the longing of the people of God to know the coming of God amongst them. In anticipation of this promise being fulfilled, the people of God sing out:
Rejoice! Rejoice! Immanuel
shall come to you O Israel.
"In our hearts, the promise still resonates and so we await the coming of God. Indeed, we may say that the season of Advent is a season of waiting and anticipation and one that yields the promise of God: 'From ages past no one has heard, no ear has perceived, no eye has seen any God besides you, who works for those who wait for him.' (Isaiah 64:4) We wait and we pray."
You can download the letter and read the prayer at this link.