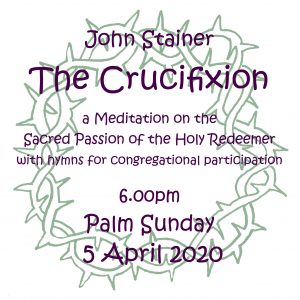 If you thought "That image looks familiar", it's because we used the crown of thorns when our augmented choir last performed Stainer's sacred oratorio The Crucifixion in 2012.
This year The Crucifixion is our Sunday@Six on Palm Sunday, by way of an introduction to Holy Week. As in 2012, we'll be joined at the organ by Willie Campbell from Dunfermline Abbey, and directed by our friend Jill Goode. Save the date!
St Margaret's choir are seeking extra singers to augment our numbers. Preparing for Crucifixion will take over our regular choir practices on Fridays from 7 February (except 21 February), with a final rehearsal on Friday 3 April.
If you would like to join us, go to this link for more details, and please contact Myra Tarr soon!